Vers une approche globale pour soutenir le processus Adaptive Sales and Operations Planning
In an increasingly uncertain context, companies are always looking for relevant means able to optimize their supply chain planning. Since 2011, some authors propose a new approach called DDAE/DDMRP which is supposed to allow reacting in an agile way in a complex and volatile context. Is the grail there? This approach is meeting with growing success among practitioners and scholars, but this multi-level hierarchical planning system (operational, tactical, strategical) has many grey areas that remain to be cleared up. This study focuses on the strategic level of this model: the AS&OP process. For now, AS&OP is not accurately defined and equipped. Consequently, we propose to develop a dedicated decision support system. This study brings two distinct contributions: a modeling of the AS&OP business processes and an associated software approach to support the decision mechanism. We study the potential of using decision trees and risk management approaches to develop a scenario-oriented planning with this perspective. This experimentation platform called AS&OP- DSS is tested on a theoretical case. The article concludes on the feasibility of this approach and opens avenues for future research.
Dans un contexte de plus en plus incertain, les entreprises sont toujours à la recherche de l'optimisation de la planification de leur supply chain. Depuis 2011, des auteurs proposent une nouvelle approche appelée DDAE/DDMRP censée permettre de réagir de manière agile dans un contexte complexe et volatile, le graal est-il là ? Cette approche rencontre un succès grandissant au niveau des industriels et des scientifiques mais ce système de planification hiérarchisée multi-niveaux (opérationnel, tactique, stratégique) comporte de nombreuses zones d'ombres qui restent à éclaircir. Cette étude se porte sur le niveau stratégique de ce modèle : le processus AS&OP. A date, AS&OP n'étant pas suffisamment précisément défini et outillé, nous proposons de développer un système d'aide à la décision dédié. Cette étude apporte deux contributions distinctes : une modélisation du processus métier AS&OP ainsi qu'une approche logicielle associée permettant de soutenir l'aide à la décision. Nous étudions le potentiel de l'utilisation des arbres de décisions et de la gestion des risques pour développer une planification scénarisée dans cette optique. Cette plateforme d'expérimentation appelé AS&OP-DSS est testée sur un cas illustratif. L'article conclut sur la faisabilité de cette approche et ouvre sur un ensemble de perspectives de recherche.
Fichier principal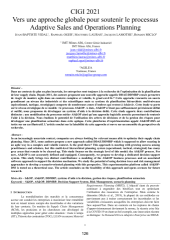 Vers-une-approche-globale-pour-soutenir- le-processus-Adaptive-Sales.pdf (1.13 Mo)
Télécharger le fichier
Origin : Publisher files allowed on an open archive