Conception d'un modèle de simulation pour l'évaluation de la pertinence de l'Internet Physique pour les chaînes d'approvisionnement humanitaires
In the aftermath of a disaster, supplying relief items to affected people is a real challenge for humanitarian organizations. Showing a lack of effectiveness in the response, their practices are put into question. The Physical Internet approach, aiming at reorganizing logistics in a way for improved resource management and better coordination of actors while meeting the stakeholders and environment growing expectations, seems relevant for the humanitarian sector reinvention. However, this assumption needs to be proved through a rigorous scientific process. In this perspective, the paper offers to frame the design of an experiment based on a flow simulation model to evaluate the relevance of the Physical Internet concepts application in a humanitarian context. The steps defined, inspired by the system engineering field, ensure that the simulation meets the objective while ensuring the experiment reliability.
La livraison de produits de première nécessité aux victimes des catastrophes naturelles représente un véritable défi pour les organisations humanitaires. Critiquées pour un manque d'efficacité, elles doivent aujourd'hui chercher à se réinventer. L'approche Internet Physique, qui propose une réorganisation de la logistique pour une meilleure gestion des ressources et coordination des acteurs tout en répondant aux exigences croissantes des parties prenantes et environnementales, pourrait s'avérer pertinente pour le secteur humanitaire. Cependant, cette hypothèse demande à être vérifiée au travers d'une démarche scientifique rigoureuse. Dans cette perspective, l'article propose la structuration d'une expérience basée sur un modèle de simulation de flux afin d'évaluer la pertinence de l'application de concepts de l'Internet Physique à un contexte humanitaire. Les étapes définies, inspirées des concepts de l'ingénierie des systèmes, permettent de garantir à la simulation son adéquation avec l'objectif de l'expérience et sa fiabilité.
Fichier principal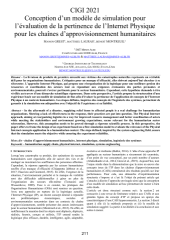 Conception-d-un-modele-de-simulation.pdf (711.14 Ko)
Télécharger le fichier
Origin : Publisher files allowed on an open archive